Huawei accelerates expansion of PC, smart screen and other businesses
"Although we are still new players in the PC market, we are already the No. 1 Net Promoter in the Chinese market." Yu Chengdong said.
Today, Huawei held a special conference for PC products in Shanghai, which was rare in the past. In a few days, Honor will also debut in Shanghai and launch its game product.
Under the influence of US sanctions on the mobile phone business, Huawei is accelerating the iteration and business scale of IoT products such as PCs and smart screens.
Entering the government and enterprise market games will also debut
Since this is a quiet lengthy article, we have added a table of contents for easier navigation.
Huawei's PC layout is also similar to a dual-brand model for mobile phones. The Huawei brand focuses on high-end products, and the Honor brand targets young people.
The main idea of ​​Huawei PC is the mobile office scene. The product line is divided into three categories, positioning the flagship X series, focusing on the thin and light digital series, and focusing on the performance D series. This conference launched a new generation of MateBook X, Huawei MateBook 13/14 2020 Ryzen Edition, and updated the flagship series and digital series.
In addition, it is worth noting that Li Bin, vice president of Huawei's consumer business in Greater China and head of the convergence business department, announced that in addition to the original three series, Huawei MateBook will also add a B series, mainly for government and corporate customers.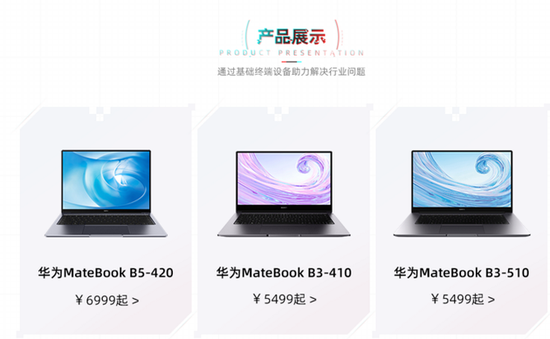 Sina Technology has seen MateBook B3-410, MateBook B3-510, and MateBook B5-420 on the Huawei Mall, with prices starting at 5499 yuan, which are relatively competitive in price.
Previously, Huawei's PC was mainly positioned in the consumer market for thin and light notebooks, and entered the government and enterprise markets to further expand its market share. Huawei has also taken similar actions on smart screens, after launching a number of smart screen products for the consumer market. , Huawei has also launched corporate smart screen products, focusing on corporate conference and office scenarios.
And Honor also has new actions on PC. On September 1st, Honor will also hold a gaming laptop conference in Shanghai. This is also the first time Honor has set foot in gaming laptops in addition to thin and light laptops.
With the smartphone business being sanctioned by the United States and the decline in shipments, Huawei is accelerating its efforts in high-profit IoT categories such as PCs and smart screens. Earlier, there were rumors that Huawei had launched the "Nanniwan" project to avoid products containing US technology. The project includes accelerating the promotion of notebook computers and smart screen business, these two categories of products may not include American technology.
In the first quarter and the first half of this year, Huawei's smartphone business experienced a year-on-year decline, but Huawei's consumer business revenue still maintained growth, which was contributed by the rapid growth of IoT products, including PCs.
Ecological synergy is the advantage PC pattern will change?
At today's press conference, Yu Chengdong reviewed the history of the transformation of mobile office: the first generation of mobile office was marked by the realization of the "portability" of notebooks, and the second generation of mobile office was marked by the "thin and lightness" of notebooks. The third-generation mobile office requires smarter notebooks and brings a new experience of ecological integration.
Huawei believes that one of the core connotations of "intelligence" is "cooperation." In notebook products, Huawei can realize near-end collaboration between notebooks and mobile phones and other electronic products through the "Huawei Sharing Multi-screen Collaboration" function; at the same time, through the "Huawei Cloud Space" function, it can realize data sharing across devices between notebooks and different electronic devices , To achieve remote collaboration.
Taking the new MateBook X released today as an example, there are three ways to connect mobile phones and PCs: close connection, touch connection, scan code connection; at the same time, the notebook can even run mobile multitasking, which further enriches the mobile phone and PC The interconnected scene.
Wang Yinfeng, president of Huawei's consumer business tablet and PC product line, once explained Huawei's idea of ​​making PCs, that is, Huawei's experience and components in the smartphone industry can be used as notebook products, thereby bringing innovation and change to the PC industry.
Take the government-enterprise market that Huawei PC entered this time as an example. A series of terminal products such as Huawei's mobile phones, tablets, PCs, and smart screens can realize closed-loop solutions in industries such as education and corporate office meetings.
Huawei's other card on IoT is Hongmeng OS. According to the roadmap announced by Yu Chengdong in 2019, this year Huawei will launch the Hongmeng OS 2.0 version and open up products such as PCs, watches and cars. Earlier, Huawei has officially announced that it will hold the Huawei Developer Conference on September 11. According to media reports, the Hongmeng OS 2.0 version may be officially unveiled by then.
Distributed capabilities and cross-screen collaboration are the main concepts of Hongmeng OS. As smart screens, watches, PCs and even future mobile phones are officially equipped with Hongmeng OS, the advantages of these cross-screen collaborations will become more prominent.
However, the ecology needs to be further constructed. Today, the official website of Huawei developers released a plan called "Qingyun Ecology". According to the official introduction, the cooperation of Qingyun ecosystem is based on the ecological adaptation plan launched by Huawei's Qingyun series of desktop terminals, which aims to enrich and improve the desktop terminals. Application ecology, covering office, design, learning and other scenarios, sincerely invites third-party software and peripheral manufacturers to participate.
Among the prototypes released on the official website, Huawei's notebooks and desktops are included. This may mean that Huawei is already preparing for its own PC application and service ecosystem.
Yu Chengdong said at the press conference today that although Huawei is a new recruit in the PC industry and even suffered a few months of system and chip supply outages in 2019, it has still ranked first in the domestic PC market.
Citing third-party data, he said that Huawei's notebook market share in China is 16.9%, ranking second, and its net recommendation score (NPS) is the first; Li Bin, vice president of Huawei's consumer business in Greater China and head of the convergence business department, said that this year In the second quarter, Huawei's market share of 5,500-8,000 yuan in thin and light notebooks reached 33.6%.
At least in the Chinese market, Huawei, which has strong products and brand power, is becoming a catfish in the traditional PC industry.
---
If you think this post can be helpful to somebody else, please share it on Twitter, Facebook or Whatsapp it to friends. There are buttons below for this (easy to use too)! Join Over 5,000 + Readers. Get a free daily update via Email HERE
YOU MAY LIKE
---